Exhibitor List Floor Plan Parking & Transport
Stage Schedule Entertainment Work Shops
Organisation
Category
Booth Number

Active Body Conditioning

+

Active Body Conditioning

Allied Health Professionals

Booth Number: 35

Allied Health Professionals

35

Adjusta Mattress Australia

+

Adjusta Mattress Australia

PROD 01

Aged Care Guide

Resources & Information

Booth Number: 13

Resources & Information

13

AHP Disability & Home Care

+

AHP Disability & Home Care

Allied Health Professionals

Booth Number: 12

Allied Health Professionals

12

Airphysio

Category:

Aids and Equipment
Health/Medical

Booth Number: 02

Aids and Equipment
Health/Medical

02

Allity - Villa Serena

In Home Care Provider, Modified Vehicles, Nursing Home & Retirement Village

Booth Number: G3

In Home Care Provider, Modified Vehicles, Nursing Home & Retirement Village

G3

Alzheimer's Queensland

Category:

Education & Training
Health/Medical
Support Services
Social and Recreation Services

Booth Number: 44

Education & Training
Health/Medical
Support Services
Social and Recreation Services

44

Arcare

42

Aura Holdings

Retirement Village

Booth Number: 16

Retirement Village

16

Australian Over 50's Guidebook

+

Australian Over 50's Guidebook

Category:

Social and Recreation Services

Booth Number: 09

Social and Recreation Services

09

BallyCara

Category:

Health/Medical
Support Services
Transport
Other

Allied Health Professionals, Retirement Village, Occupational Therapy, Speech Pathology, Physiotherapy, Early Childhood Intervention, Positive Behaviour Support, Assistive technology, Home modifications

Booth Number: 14

Health/Medical
Support Services
Transport
Other

Allied Health Professionals, Retirement Village, Occupational Therapy, Speech Pathology, Physiotherapy, Early Childhood Intervention, Positive Behaviour Support, Assistive technology, Home modifications

14

Be Connected

Category:

Advocacy
Education & Training
Technology

Booth Number: 06

Advocacy
Education & Training
Technology

06

Bionic Air

Category:

Aids and Equipment
Health/Medical

Booth Number: 43

Aids and Equipment
Health/Medical

43

Blind Freddy e-Bikes

Category:

Aids and Equipment
Social and Recreation Services

Booth Number: 36

Aids and Equipment
Social and Recreation Services

36

Bolton Clarke

Category:

Health/Medical
Support Services
Other

Booth Number: 40

Health/Medical
Support Services
Other

40

Bowel and Breast Screening

+

Bowel and Breast Screening

SB01

Bupa Health Insurance

25

Cancer Council Queensland

+

Cancer Council Queensland

Category:

Advocacy
Education & Training
Health/Medical
Support Services
Transport

Booth Number: 30

Advocacy
Education & Training
Health/Medical
Support Services
Transport

30

De Paul Manor Estate - Ozcare

+

De Paul Manor Estate - Ozcare

Aged Care and Retirement

Booth Number: 21

Aged Care and Retirement

21

Epoch Times

SB05

Hearing Australia

Category:

Aids and Equipment
Government
Health/Medical
Support Services
Technology

Booth Number: 05

Aids and Equipment
Government
Health/Medical
Support Services
Technology

05

Ingenia Lifestyle

Retirement Village

Booth Number: 38

Retirement Village

38

Integrity Funeral Services

+

Integrity Funeral Services

11

Japara

46

JoyaMedical Supplies

Category:

Aids and Equipment
Health/Medical
Other

23

Aids and Equipment
Health/Medical
Other

23

Liberty Healthcare

10

Living Choice Parkwood

Retirement Village

Booth Number: 45

Retirement Village

45

Mable Technologies

In Home Care Provider

Booth Number: 19

In Home Care Provider

19

Meals on Wheels

Food Service Provider

Booth Number: 15

Food Service Provider

15

Molmike

Category:

Aids and Equipment
Support Services

Booth Number: 41

Aids and Equipment
Support Services

41

My Health for Life

31

Nurse Next Door

In Home Care Provider

Booth Number: 37

In Home Care Provider

37

Ozcare

Category:

Support Services
Social and Recreation Services
Other

Allied Health Professionals, In Home Care Providers, Nursing Home & Retirement Village

Booth Number: 03

Support Services
Social and Recreation Services
Other

Allied Health Professionals, In Home Care Providers, Nursing Home & Retirement Village

03

PainPod

39

Palm Lake Works

Category:

Aids and Equipment
Support Services
Other

Retirement Village, Occupational Therapy, Speech Pathology, Physiotherapy, Early Childhood Intervention, Positive Behaviour Support, Assistive technology, Home modifications, Allied health assistants / professionals

Booth Number: 18

Aids and Equipment
Support Services
Other

Retirement Village, Occupational Therapy, Speech Pathology, Physiotherapy, Early Childhood Intervention, Positive Behaviour Support, Assistive technology, Home modifications, Allied health assistants / professionals

18

Reside Communities

Retirement Village

Booth Number: G4

Retirement Village

G4

RSL LifeCare

In Home Care Provider, Nursing Home

Booth Number: 17

In Home Care Provider, Nursing Home

17

Safety Link

33

Sleeptime

28 & 29

Somerville Funerals

G1

St Vincent de Paul Society

+

St Vincent de Paul Society

Home maintenance & Modifications, Home Assist Secure

Booth Number: 32

Home maintenance & Modifications, Home Assist Secure

32

STAR Community Services

Aged Care, In Home Care Provider

Booth Number: 08

Aged Care, In Home Care Provider

08

The Daisie Chain

Category:

Health/Medical
Social and Recreation Services
Other

Nursing Home & Retirement Village

Booth Number: SB04

Health/Medical
Social and Recreation Services
Other

Nursing Home & Retirement Village

SB04

The Good Meal Co

Food Supplier

Booth Number: 20

Food Supplier

20

The Public Trustee

04

Trilogy Care

Category:

Financial Services
Support Services

Booth Number: 26

Financial Services
Support Services

26

Tunstall Healthcare

Category:

Aids and Equipment
Health/Medical
Technology

Booth Number: 34

Aids and Equipment
Health/Medical
Technology

34

UNICEF

27

Volunteering Gold Coast

Category:

Education & Training
Employment Services
Post School Options
Support Services
Social and Recreation Services
Transport

Booth Number: 07

Education & Training
Employment Services
Post School Options
Support Services
Social and Recreation Services
Transport

07

Wellways Carer Gateway

22

Wesley Mission Queensland

+

Wesley Mission Queensland

In Home Care Provider, Mental Health Provider, Nursing Home & Retirement Village

Booth Number: 24

In Home Care Provider, Mental Health Provider, Nursing Home & Retirement Village

24

Yellow Card Builders

1
---
The Venue
The Gold Coast Event Centre 
Address: Corner of Jim Griffiths Way & Racecourse Drive, Bundall QLD 4217
Transport Options:
Shuttle buses will be running from Cypress Avenue Light Rail Station, Surfers Paradise, directly to the venue over both days, Tuesday & Wednesday. Starting at 8:30am, every 30 minutes until 3:00pm, the last shuttle back to the station, from the venue will leave 3:00pm sharp each day. Look out for the Volunteering Gold Coast Buses & jump on for FREE!
The TransLink's bus, train and tram network can connect you to places all over the Gold Coast. Their integrated network on the Gold Coast includes the G:link trams, Surfside bus lines and Queensland Rail. Visit translink.com.au or call 13 12 30 for information to plan your journey. 
Facilities:
Accessible entry ramps
Accessible toilets
Cafe seating area & food trucks
Parking
There is FREE parking available at the venue, including 16 dedicated disability spaces. Please use Car Park P1 or Car Park P2.
Parking Map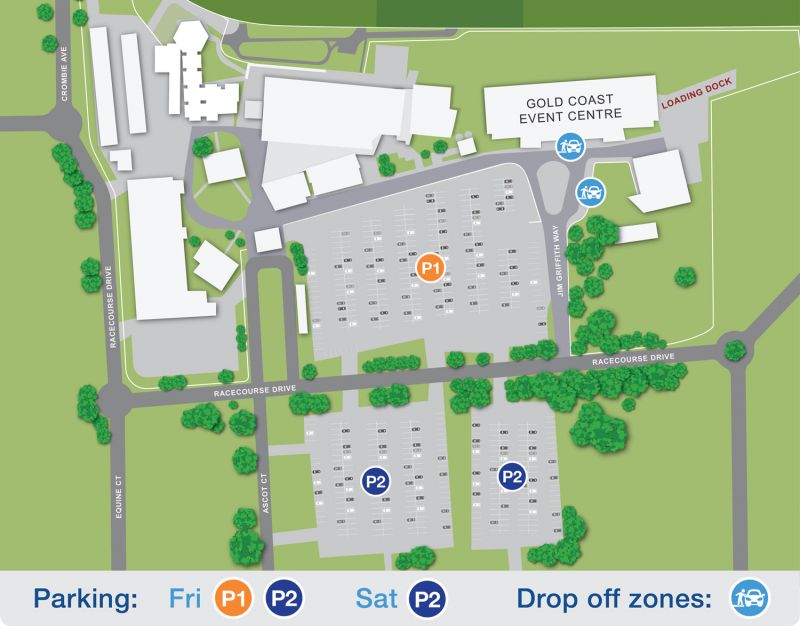 ---
Floor Plan - *

(subject to change)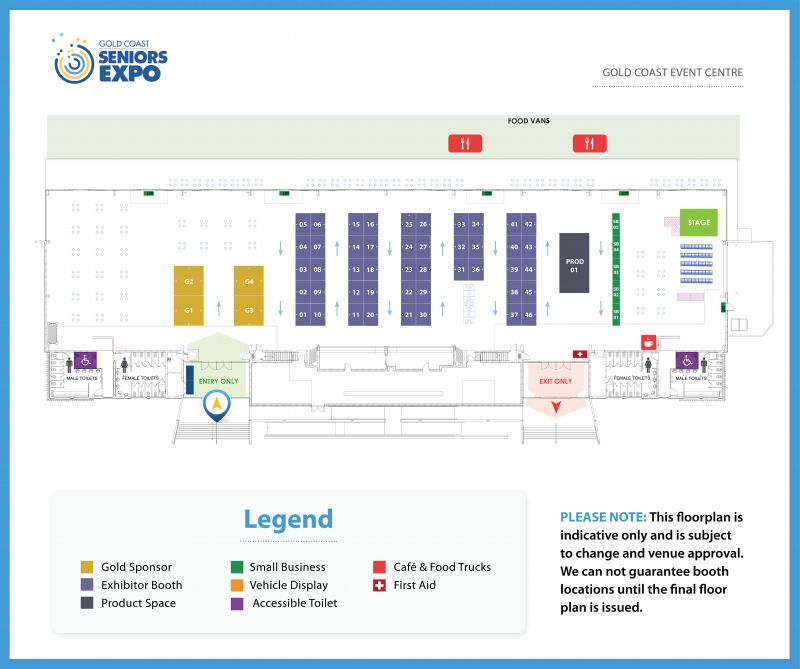 ---
Stage Schedule
TUESDAY, 15 JUNE 2021

Time
Duration
What
Who
Type
10:30am
20mins
40's / 50's / 60's Themed Song & Dance
 
 
11:00am
20mins
Redefining Aged Care and leaving a legacy

Youngster.Co - Tony Rothacker

 
 
11:30am
20mins
 Magic of Music
 Emma Watts
 
12:00am
20mins
40's / 50's / 60's Themed Song & Dance
 DOO WOP DOLLS
 
12:30am
20mins
Understanding Aged Care & It's Complexities
Allity: Michelle Kay-Clough
 
1:00pm
20mins
Bowel & Breast Screening in Queensland
Liz Cramb
 
1:30pm
20mins
40's / 50's / 60's Themed Song & Dance
 
 
WEDNESDAY, 16 JUNE 2020

Time
Duration
What
Who
Type
10:00am
20am

QPS - Gold Coast District: Personal Safety for Seniors

 

Ken Brown and Trish Walters

 
 
10:30am
20mins
40's / 50's / 60's Themed Song & Dance
DOO WOP DOLLS

 

11:00am
20mins
Redefining Aged Care and leaving a legacy
Youngster.Co - Tony Rothacker
 
11:30am
20mins
Magic of Music
Emma Watts

 

12:00am
20mins
40's / 50's / 60's Themed Song & Dance
DOO WOP DOLLS
 
12:30pm
20mins
Bowel & Breast Screening in Queensland
Liz Cramb
 
1:00pm
20mins
Rights and responsibilities as a consumer or business in QLD
Natasha Schuba

 

1:30pm
20mins
40's / 50's / 60's Themed Song & Dance
DOO WOP DOLLS
 
---
---
---