Giving Back Control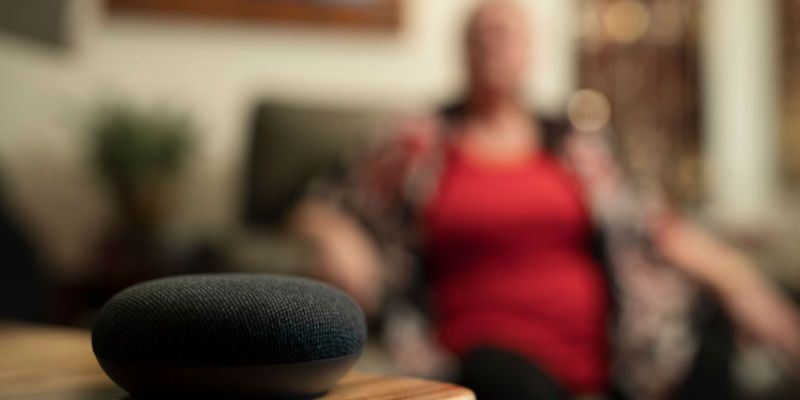 Introducing MYFEROS and GOOGLE ASSISTANT — Australian firsts
MyFeros is an app that allows Feros Care clients to manage their services quickly and easily — leaving them more time to enjoy their lives. The app enables them to view their upcoming services and carers at a glance, keep track of their financial journey and share messages with Feros staff via computer or tablet.
Piloted in 2018, the app was an instant hit with clients who welcomed the extra control it gave them.
But something was missing. Feros Care Chief Information Officer Glenn Payne says, "A few months ago we visited one of our clients who is using MyFeros and saw that navigating the portal on his tablet was frustrating because of his Parkinson's. We walked away realising we hadn't been inclusive of his needs, let alone others with dexterity or sight issues."
Enter Google Assistant, the technology that allows users to speak voice commands to seek information and interact with services.
"We needed a way to cater for all our clients, not just those who can use a computer, and voice-command technology enables us to do that," Mr Payne said.
"Having chosen Google Assistant as the platform, our team of developers spent several months configuring our internal systems to link the MyFeros portal with Google in a secure manner. Our pilot participants are now using it daily.
"By simply using the voice command, 'Hey Google, ask Feros Care…', they are able to find out what appointments are upcoming, which carers will be visiting them, information about their accounts and whether they have any messages.
"This is just another addition to our technology armour to help people live in their homes longer," he said.
"Working in aged care, we find it's hard for people who have been independent their whole lives to suddenly rely on others to provide services for them.
"We're excited that MyFeros and our use of Google Assistant are giving them back control and we're going to keep embracing any technology we identify that will help our clients."
What do our clients think?
Bill Bryce: 66 years young
Combining MyFeros with Google Assistant has made life easier for Bill, who has lived with multiple sclerosis for almost four decades.
"I look fine when I'm sitting like this but I do struggle with certain tasks, and that's where Google Home is perfect for me," says Bill.
"I can't use a scroll pad on a laptop. I've had operations on my voice box and sometimes struggle to find the right words on the phone. Google Home has helped counter that and I'm sure there will be a lot of seniors or people with a disability who will benefit from the technology.
"It helps you communicate, participate and maintain your independence."
An early adopter of Google Home technology, Bill was one of the first people to join the pilot after his Feros Care case worker identified him as an ideal candidate to trial the service.
A few months on he is delighted to be playing a role in shaping what is the first example of an aged care provider offering the voice-command technology.
"Everyone relies on someone in life but when you've got a disability, that dependency increases significantly," Bill said.
"That's why when technology like this comes along you should grab it with both hands. I know it's made my life a lot easier."
Bill Bryce has a simple message for any seniors offered the chance to trial Feros Care's latest technological innovation – just do it.
"You've got to embrace technology no matter how old you are. I've been fortunate to be part of the pilot program and it's opened everything up for me.
"Once you've got it all set up, it becomes second nature and I'm sure it will make so many people's lives easier."
Pamela Hanley: 77 Years Young
"I used to get pushed around in a wheelchair, but after three months of Feros sending a physiotherapist to help me, I was able to walk a lot better.
 "I wouldn't have the independence I have without Feros – and independence is the most important thing you can have."
As part of the MyFeros and Google Assistant pilot program, that independence extends to Pamela keeping track of her Feros Care services via MyFeros.
"MyFeros and Google Assistant helped me when I came out of hospital and couldn't get out of bed. I wasn't able to get to the computer but I was able to ask Google Assistant what services I had, who was coming and what times they were coming—and any information I needed about messages and anything else."
Pamela can monitor and reschedule her upcoming services and carers, access her financial account and share messages with staff – all without picking up the phone.
Not that Pamela foregoes the personal connections she loves.
"All the Feros staff I deal with are 'my girls'," Pamela says.
"They're just wonderful and have become my friends. I went to have a meeting with them the other day and because it was my birthday, they threw me a party. They didn't have to do that but that's the type of people they are.
"I don't want to sit here and say 'It's the best organisation in the world' but it is to me … they care about their clients."
For more information on MyFeros and Google Assistant, visit our website or come and talk to us at our booth at the Gold Coast Seniors Expo, Gold Coast Event Centre, Tuesday and Wednesday, June 4 and 5. 
Share this page




Comment
Leave a Reply