Introducing the Gold Coast Seniors Expo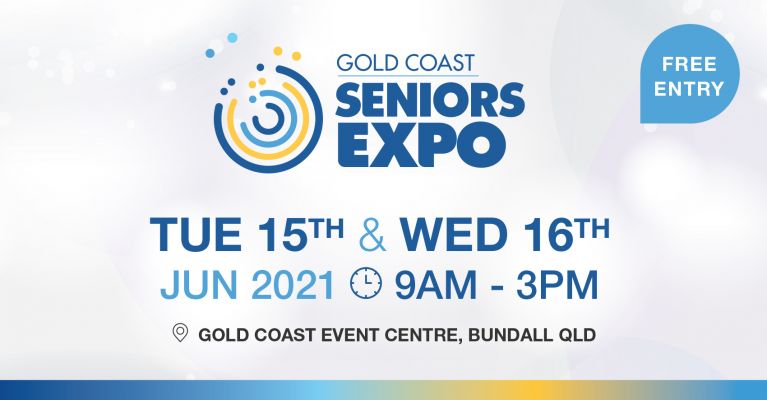 Gold Coast Seniors are embracing Just Live! as a way to control how they want to live their lives now, whilst at the same time plan for the future. 
This year our face-to-face expos will return in 2021 in a COVIDsafe way. The practices we have become familiar with – physical distancing, hand washing, extra cleaning, crowd management, health questionnaires and contract tracing  will all form part of the COVIDsafe practices you can expect to see at this year's Gold Coast Seniors Expos.
The Gold Coast Seniors Expo is a must-do event for all providers on the Gold Coast who service the senior's market. 
With over 120,000 over-60s living in the Gold Coast, thousands of attendees will make their way through the doors of the largest senior specific expo held at the Gold Coast Event Centre, Bundall, they will be on the lookout for the assistive technologies, health and community resources, long-term care, financial, travel and lifestyle options. 
Held on Tuesday 15th & Wednesday 16th June 2021, the Just Live! Gold Coast Seniors Expo gives exhibitors two full days of face-to-face interaction with potential new clients and the opportunity to demonstrate what their products and services can offer. The expo also gives organisations the chance to network with other organisations, develop new partnerships and learn about other products and services that are on the market in the region.
Free for all attendees, today's seniors, their supporters and carers, will be actively looking for ways to take greater control, enhance their lives now, and lock in a secure, comfortable future.
The two-day event will entertain attendees with key note speakers, demonstrations, workshops, live stage entertainment and variety of delicious food & coffee trucks to contribute to a positive, information-rich environment in which seniors will confidently make decisions that affect them for years to come. 
Platinum, Gold or Silver Sponsors receive a premium booth in prime position and additional promotional opportunities in the lead up to the expo. Run by Social Impact Institute, organisers of seniors and disability expos around Australia, you will be guided and supported in the lead up to, during, and following the expo to ensure you get the most of out of it.
Make sure you secure your exhibitor place early and guarantee your organisation a great booth placement at the Expo, helping seniors make important decisions now and for the future. For more information visit, www.goldcoastseniorsexpo.com.au or call 02 9025 9392
Share this page




Comment
Leave a Reply