Retro Entertainment for Gold Coast Seniors Expo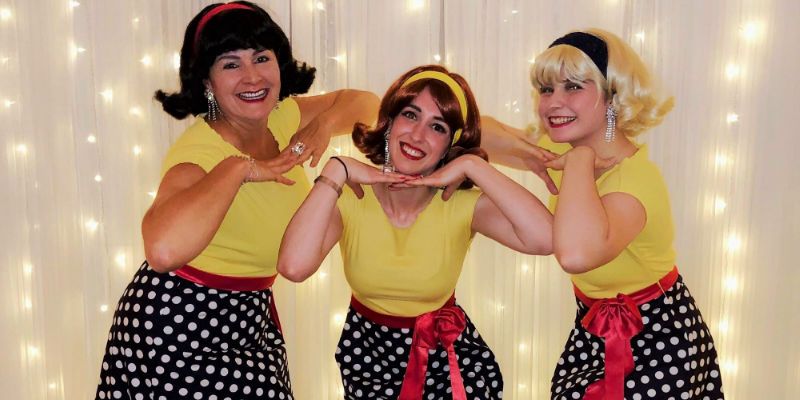 The DooWop Dolls will be the headline act at Gold Coast Seniors Expo in early June. Known for their Andrews Sisters style harmonies, the three women aged 19, 25 and 50, are a study in 40s, 50s and 60s song and dance, costume and glamour. 
"I'm really looking forward to performing and to interacting when we're not performing," says manager Melissa Isles.
"You never know, we might stop somewhere in the crowd to do a quick rendition of Lollipop Lollipop."
The DooWop Dolls are old hands at delighting crowds that really know their music. Between themed parties, festivals and special events, they are often found entertaining people in nursing homes and retirement villages.
"You just can't fool people who have lived through the 40s, 50s and 60s — and I don't believe in doing anything half-half anyway. It needs to be the right choreography, dress, makeup and hair for each genre of music. 
"When you see huge grins on people's faces and they say 'Oh my hip's killing me. I shouldn't be dancing but I won't be able to stop', you know you're doing it right." 
Melissa grew up listening to the music of her parents' and grandparents' favourite vinyls: The Andrews Sisters, Ella Fitzgerald, Dean Martin, Frank Sinatra, The Supremes, Johnny Cash and so many more. 
"Music transports people back in time. They remember the steps and slip back into that natural grace and elegance," says Melissa.
"You also get a sense of the history between couples. They look into each other's faces when they're dancing, and you can see the love shining between them. It's beautiful to watch."
The DooWop Dolls will be performing 40s, 50s and 60s style music at 10:30am, 12:00pm and 1:30pm on both Tuesday and Wednesday, June 4 and 5, at the Gold Coast Seniors Expo, Gold Coast Event Centre. Between sets, they will interact with attendees. Over the two days, other live performances and presentations will also take place on centre stage.
Entry to the Gold Coast Seniors Expo is FREE. The expo will link seniors with over one hundred product and service providers as well as holiday, leisure, lifestyle and technology options. Attendees will have the opportunity to test drive mobility and assistive technology aids, attend workshops, and gain insight into aged care options with guest speakers, My Aged Care planners and coordinators, government agencies and advocacy groups.
More about Doo Wop Dolls
Website: http://www.doowopdolls.com.au/what-we-offer/
facebook: https://www.facebook.com/doowopdollsnoosa/
More about Social Impact Institute
Social Impact Institute (formerly 4community) has been managing disability expos for five years, developing partnerships with local entities to increase social impact for the greater good of the disability sector. As innovators, creatives and strategic problem solvers, Social Impact Institute links community members with organisations who are interested in developing creative solutions to complex problems.
Venue/Time
Tuesday & Wednesday, June 4 and 5, Time: 9:00am - 3:00pm
Gold Coast Event Centre, Corner of Jim Griffiths Way & Racecourse Drive, Bundall QLD 4217
Contact
Kathryn Carey, Senior Advisor Social Impact Institute | 0418 969 149 | kathryn.carey@socialimpact.institute
Links
Website: https://www.goldcoastseniorsexpo.com.au
Facebook: https://www.facebook.com/gcseniorsexpo
Share this page




Comment
Leave a Reply